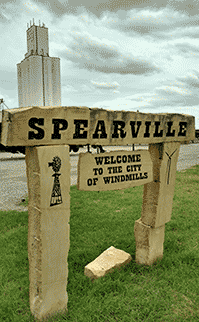 Ford County State Bank succeeded the original Ford County Bank in 1902. The original Ford County Bank was constructed and opened by Asa Soule in 1887, and was in operation through 1897. Asa Soule was the developer of the Soule Canal or the Eureka Irrigation Canal. The excavation work of the 96-mile long, 48-feet wide and six-feet deep canal was between 1883 and 1888. The canal extended from Ingalls on the Arkansas River, across much of Gray County, all the way across Ford County, and to the Coon Creek near the Edwards County line. Spearville was deemed the commercial center of the system, with the headquarters being set up at the Summit House in Spearville.

The Kansas Bank Commissioner issued the charter to Ford County State Bank, Spearville, Kansas on June 13, 1902. The newly chartered bank occupied the old Ford County Bank Building. A new bank building was completed in 1965, and then was remodeled with a new front in 1999.

Throughout the Bank's 100-year history, six presidents have served Ford County State Bank, which has experienced the growth and trials of its community during its long history. Through favorable and disappointing intervals the Ford County State Bank is dedicated to the growth and stability of the community. Our Bank provides financial support and hands-on-involvement with many community, educational, charitable, and church organizations in the area.

Ford County State Bank considers it a privilege to have served Spearville, Kansas for more than 100 years, and pledges the same quality and service to its loyal, as well as all anticipated customers in the forthcoming future.